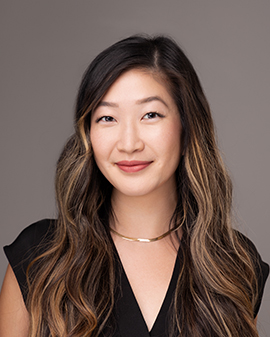 Dr. Julia Kang is a board-certified ophthalmologist originally from St. Louis, MO, and attended the University of Notre Dame in South Bend, IN for undergraduate school, where she majored in psychology and pre-professional studies. Inspired by her semester abroad in Puebla, Mexico, she developed a passion for public/global health. She moved to Miami, FL to obtain her medical degree and Masters in Public Health from the University of Miami Miller School of Medicine.
Dr. Kang completed her internship at Norwalk Hospital, affiliated with Yale University School of Medicine. She then continued her ophthalmology residency training at the Emory Eye Center in Atlanta, GA. As a resident, she had the opportunity to travel to Addis Ababa, Ethiopia with Orbis, the flying eye hospital. She completed her oculoplastic & reconstructive surgery fellowship at the Central Valley Eye Medical Group in Stockton, CA. After graduation, she spent time abroad in Seoul, Korea learning oculoplastic techniques at the Samsung and Asan Medical Center, as well as Nune Eye Hospital. She has co-authored multiple peer-reviewed publications and as an artist, she has contributed medical illustrations for different oculoplastic surgery book chapters. Dr. Kang manages both functional and cosmetic concerns involving the eyelids.
"Dr. Kang and her staff were very professional and the surgery center was very efficient. Dr. Kang was personable and obviously very proficient in her work. My eyes look great! I would not hesitate to recommend her to anyone!"Jacqueline Callaway

Jacqueline Callaway
"The eyelid surgery went very well for me! During and after the surgery, I had no real discomfort. The results are great and my scar is nearly undetectable. Best of all, Dr. Kang was so great to work with. Her level of professionalism is excellent and her attention to detail for me was exceptional. I 100% recommend Dr. Kang to anyone! Family, friends, strangers!"D.L.

D.L.
Follow Us On Instagram!