Home » Blog » We Are Thankful for Our Patients
We Are Thankful for Our Patients
Posted by: Clayton eye Center in General, November 20, 2023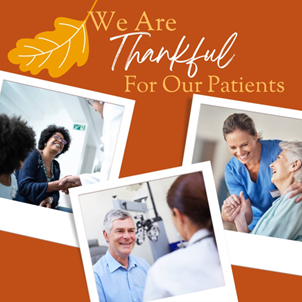 This Thanksgiving season, it is essential to acknowledge what we are grateful for in our lives and thank all our patients. It is a pleasure to care for your eye care needs every day.
The doctors and staff at our office have the opportunity to touch so many people's lives uniquely, and we see patients all the time who tell us how their eye care appointment has made a massive difference for them, from boosted self-esteem to clearer vision to see the world a little brighter. It is incredible how good eye health profoundly impacts our daily activities.
We want to take a moment to acknowledge you as our patient and tell you how much we appreciate you. Your kind words about our staff and services motivate and humble us greatly; we genuinely know we have the best patients on the planet!
We are grateful for your trust, and by choosing our practice, you tell us that you trust us, even if you do not say it explicitly. We are incredibly grateful that you believe in what we do, so much that patients often refer others to our practice. We appreciate you for arriving at your appointment and sharing your positive experiences with others, and we work to show how thankful we are for you each day.
We want to let you know that we are so thankful for our past and current patients this Thanksgiving holiday. We are glad to help you and many others improve their daily lives and eye health!
We Wish You a Happy and Healthy Thanksgiving Holiday!

---