Home » Blog » April Is Sports Eye Safety Month
April Is Sports Eye Safety Month
Posted by: Clayton eye Center in General, April 4, 2023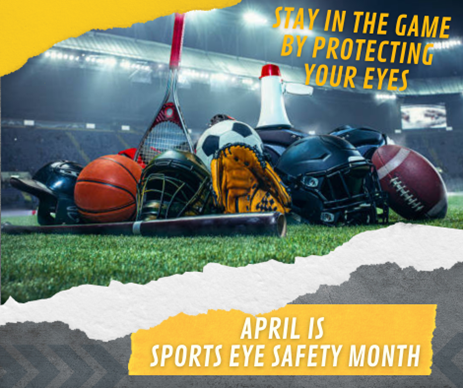 Spring has Sprung, which begins the perfect time for sports and outdoor game time. The month of April is National Sports Eye Safety Month, which is a reminder initiated by the American Academy of Ophthalmology (AAO) to raise awareness about preventing sports-related eye injuries. Prevention is the key, and sport-specific eye protection can save your vision. Eye protection during any activity with potential harm can protect your eyes. Eye protection is more than just eyeglasses but a specific focus on eye safety and sports glasses.
Are Your Eyes at Risk?
Eye injuries can occur during any activity. One of the highest causes of eye injury is sports. According to the AAO, more than 30,000 sports-related eye injuries are treated yearly, and 90 percent of serious eye injuries can be prevented by wearing protective eyewear.
No matter the sport, there are risks to your eyes. Any participant in any sport can benefit from wearing protective eyewear that guards against fast-moving objects, debris, dust, dirt, and sand.
If you wear prescription eyeglasses not made for sports or contact lenses, you should talk to your eye doctor about what they recommend for your specific sport and eye care needs.
Eye safety is just as crucial for those who prefer to watch from the stands; you could be subject to injury from a flying bat, ball, or other objects. Be careful and pay attention to protect your eyes while cheering for your favorite team.
Common Sports Eye Injuries
Corneal abrasion: One of the most common injuries due to sports is a corneal abrasion. A corneal abrasion is a scratch on the surface of the eye. An abrasion will heal within 2-3 days in most healthy patients. However, seeing an eye doctor to treat the abrasion, prevent infection, and check your eyes for other injuries is essential.
Traumatic Iritis: Traumatic iritis is inflammation of the iris. "Iri-" (referring to the iris or blue/brown part of your eye) + "-itis" (inflammation). With iritis due to any cause, you can have eye pain, blurred vision, and usually very sensitive to bright lights.
Hyphema: Another common injury to the eye is hyphema or bleeding inside your eye's front part. The bleeding will resolve independently, usually within 1-2 weeks. Still, it can cause other severe eye problems, including glaucoma, so it is essential to see your eye doctor and follow instructions carefully if you have this type of injury.
It is imperative to see an eye doctor when any eye injury occurs, even if it is minor. Delaying medical care can lead to vision loss or blindness.
We Can Help You Find Great Eye Protection Gear!
If you are unsure which type of eye protection is best for your favorite sport, we're happy to offer recommendations. Call us to discuss your eyewear needs and keep you playing at the top of your form! There's more to lose than just the game.
Stay safe, and have fun!

References: American Academy of Ophthalmology and American Optometric Association. This blog provides information and discussion about eye health and related subjects. The content provided in this blog and any linked materials are not intended and should not be considered medical advice. If the reader or any other person has a medical concern, they should consult with an appropriately licensed physician.
---